The Irish Cookbook
The Irish Cookbook showcases the true depth of Irish cuisine, its ingredients, and its fascinating history, as never before.
Ireland's remarkably rich food heritage dates back millennia and, in The Irish Cookbook, acclaimed chef Jp McMahon captures its unique culinary origins and varied influences. Irish food is the summation of what the land and sea give; the book's 480 home-cooking recipes celebrate the range and quality of Ireland's bounty, from oysters and seaweed on its west coast to beef and lamb from its lush green pastures, to produce and forage from throughout the island. Presenting best-loved traditional dishes together with many lesser-known gems, this book vividly evokes the warmth, hospitality, and culinary spirit of the Emerald Isle.
SPECIFICATIONS:
Format: Hardback
Size: 270 x 180 mm (10 5/8 x 7 1/8 in)
Pages: 432 pp
Illustrations: 150 illustrations
ISBN: 9781838660567
PLEASE NOTE:
Jp will be signing the books once a week. If you would like him to include a message, please email food@aniarrestaurant.ie after you have placed your order.
Order your signed copy now.
---
Christmas Posting Dates 2022
Below is a guideline from An Post outlining the latest posting dates for parcels to ensure delivery before Christmas.
Republic of Ireland: December 22, 2022
Northern Ireland: December 20, 2022
Great Britain: December 19, 2022
Rest of Europe: December 13, 2022
USA & Rest of the World: December 07, 2022
---
If you are interested in selling signed copies of the book wholesale please contact food@aniarrestaurant.ie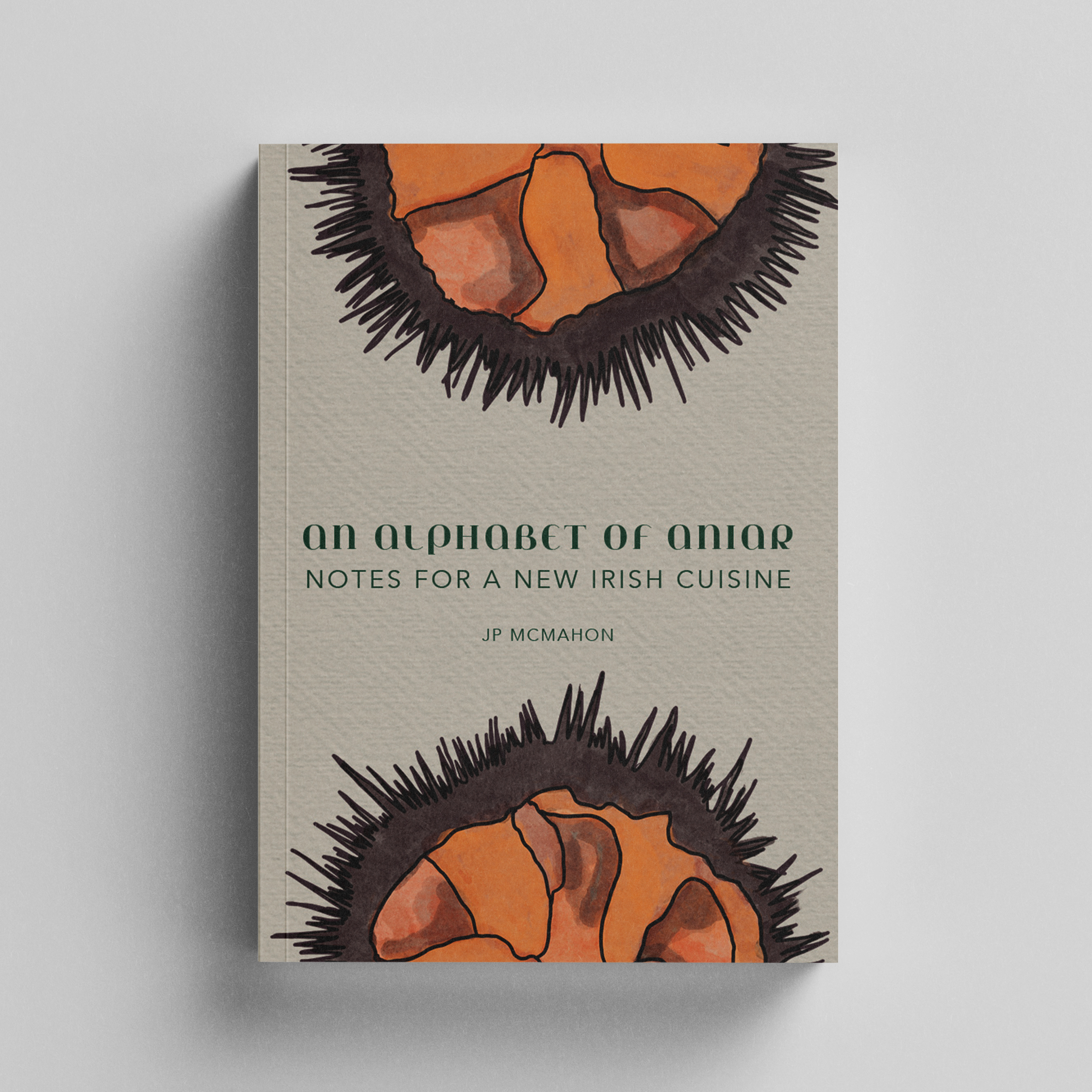 An Alphabet of Aniar by Jp McMahon (Pre-order)
This book tells the story of a small restaurant in the west of Ireland.
It is a reflective companion piece to my larger and more comprehensive The Irish Cook Book (Phaidon, 2020). While the latter book focused on the entire history of food in Ireland, encompassing the many diverse food traditions that have taken place on the island of Ireland, this book discusses some of our philosophy and findings of the last eleven years of our restaurant ANIAR. This book is by no means exhaustive and simply represents what I feel to be some of the most important aspects of ANIAR. It is the accumulation of ten years of its existence, of its investigations, of its successes and failures. It does so through the framework of the alphabet. I use this device to cut through the usual format of the story, with a clear beginning, middle and an end. For in truth, there is no beginning or end. There is just a constant middle, a daily process of trying to better ourselves through food. Like good art, food is always unfinished. We begin again every day, ready to cook for new people.
ANIAR began as a project to explore the possibilities of the Irish larder; to make sense of them and attempt to produce a new Irish cuisine. Though the restaurant has gone through numerous, though subtly different guises in this attempt, the overall project has remained the same. To explain, albeit, in a cryptic fashion, we began by doing away with lemons and black pepper and ended up exploring the possibilities of koji for Irish cuisine. Our journey is not unique, and it mirrors the journey of many restaurants attempting to find their feet in the 21st century. However, our efforts and results have an individual quality that demonstrates the restaurant's position in a particular time and space: that is, in the west of Ireland.
Another aim of this book is to foster dialogue and generate new traditions by engaging more in our past. We need to be more thoughtful of our past traditions as we move forward. This may mean refining it in some cases or adapting it to push it forward to new places. Or it may mean leaving it alone. It is only with the past inside us that we can move forward into the future and create new ground for Irish food to inhabit.
SPECIFICATIONS:
Format: Paperback
Size: 120mm (w) x 180 mm (h)
PLEASE NOTE:
Jp will be signing the books once a week. If you would like him to include a message, please email food@aniarrestaurant.ie after you have placed your order.
PREORDER A SIGNED COPY HERE. Publication Date: March 2023

Pre-Order Offer: €20.
RRP: €25